The COVID-19 pandemic hit the world hard in 2020. Come autumn, we will likely see a surge in COVID-19 cases while simultaneously being hit with cold and flu season. Luckily, there are precautions that you can take to lower your chances of getting a virus that will also increase your chances of a quick recovery if you were to catch something. Here is what we recommend you do to prepare!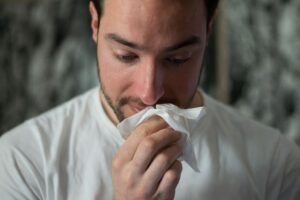 1. Get a Flu Shot
According to the Center for Disease Control and Prevention (CDC), getting the flu vaccine can lower your chances of contracting the flu by 40% to 60% each year, yet less than half of people get the shot! Remember that the flu can cause more than just a head full of snot; it can also lead to inflammation of major organs, respiratory failure, encephalitis, heart failure, susceptibility to pneumonia, and even death. We highly recommend that all individuals get the flu shot unless otherwise advised by their doctors. If you are a high-risk individual, over the age of 65, under the age of 6, or are pregnant, getting the flu shot should be your top priority.
2. Practice a Healthy Diet
Junk food and soda, while tasty, are not packed with the vitamins and nutrients you need to keep your body in fighting shape. Make sure that you are eating a well-balanced diet with plenty of fruits and vegetables. In addition, ensure that you are getting a regular dose of anti-oxidants. Anti-oxidants are found in a variety of foods, as well as spices.
3. Minimize Stress
Stress plays a role in the regular functions of your body. Excess stress will weaken the immune system and interfere with your body's natural processes, both of which put you at a higher risk of catching a virus.
4. Exercise Regularly
Exercising regularly is good for you on multiple levels, including boosting your immune system. Just be sure not to overdo it! Practicing extensive, intense exercise will have the opposite effect and end up weakening your immune system. The goal during this season will be to practice moderate-intensity exercise on a regular schedule.
5. Stay Hydrated
Drinking plenty of water is essential for proper bodily function any day, but it is especially important to stay hydrated through the flu season. Carry a water bottle around with you, whether you are going to work or chilling at home. Continually sip the water throughout the day and any time that you feel thirsty.
6. Get Enough Sleep
Maintaining an adequate sleep schedule is important to keep your immune system functioning properly and to decrease stress. Aim to sleep at least 7 to 8 hours each night. If you tend to wake up during the night, add extra time to make up for the loss.
7. Practice Good Cleaning & Hygiene
After living through COVID-19, we hope that you are now masters of properly cleaning and hygiene techniques. Keep those practices up! Regularly disinfect your home, wash your hands, avoid touching your face, wear a mask in public, and continue social distancing practices.